What career path can lead to regional administrator of the SBA?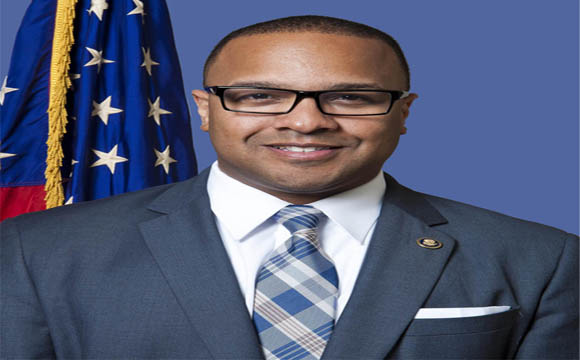 An "ace in the hole" reminds us that it is imperative to have an extra resource or option in life especially during a "rainy day." In this unstable economy, many people are thinking of ways to earn extra money and as a result are starting their own businesses.
According to the U.S. Small Business Administration, 27.5 million small businesses were created in 2009 – affording entrepreneurs to participate in the free enterprise system. These small businesses generated 65 percent of the net new jobs over the past 17 years.
With this week's article focused on government from an entrepreneurship prospective, the questions to be asked are: What career path can lead to a regional administrator of the U.S. Small Business Administration? What educational background and professional training are essential for this position? What influenced Mr. Cassius Butts to pursue a career as regional administrator of Small Business Administration? What advice does Butts give to students pursuing a career in government?
In 1953, the U.S. Small Business Administration (SBA) was created as an independent agency of the federal government designed to assist and protect the interests of small businesses. This included helping citizens start, build and grow businesses through the support of counseling, contracting assistance, gaining access to capital and addressing disaster relief.
Butts, a native of Philadelphia, Pa. serves as the regional administrator for Region IV of the U.S. Small Business Administration. He was appointed to this position by President Obama and is responsible for the delivery of SBA programs in Alabama, Florida, Georgia, Kentucky, Mississippi, North Carolina, South Carolina and Tennessee. Butts says that over $4 billion in SBA lending was dispersed to small businesses in Region IV in 2011.
Prior to the SBA appointment, Butts was branch chief of the Real Estate Owned Division with the U.S. Department of Housing and Urban Development where he started his career as a Presidential Management Fellow. In addition, he worked in senior leadership positions for city government agencies, national lending institutions and higher education, particularly, as a visiting professor with DeVry University's Keller Graduate School of Management. He was also co-founder of CB Consultants, LLC, which focused on assisting small business entrepreneurs with creating their business plans, as well as a government management consultant for Georgia Pacific in developing its Supplier Diversity Program.
As a self-proclaimed workaholic and seasoned advocate for government and small business affairs, Butts says he was influenced by his family to pursue a career in government. He was groomed by his mother, a small business owner who operated several daycares, as well as his father and grandfather who were involved in government. Butts' father was a retired veteran of the National Aeronautics and Space Administration (NASA) and his grandfather was a city commissioner for the City of Orlando.
With a Bachelor of Arts in psychology from Morehouse College and a master's degree in public administration from Clark Atlanta University, Butts decided to hone his interests in government. Butts says he supported then-Senator Obama in a leadership position in Georgia during his successful run for presidency, as well as assisted small businesses through his small consulting business. In addition to his SBA responsibilities, Butts is a member of Cobb County Workforce Development, chair of its youth workforce council, graduate of the Atlanta Regional Commission's Regional Leadership Institute and a mentor of students at Morehouse College. He is also a member of the Kappa Alpha Psi Fraternity, Inc.
While there is no one-career-path-fits all for government positions, Butts says it is essential for individuals to obtain both a bachelor and master's degree preferably in public administration, as well as become involved in leadership organizations and community affairs in line with their political field of interest. Butts encourages students who desire to pursue a career in government to "find out their talents, reach out to organizations within the field of interest that can also foster the talents and volunteer at these companies or organizations." He further says that people don't realize the value in volunteering and how you can gain valuable relationships. According to Butts, "don't be afraid to put yourself out there and ask for assistance, get involved with social media in order to promote yourself and other interests to help you find your way."
Starting a business can be a rewarding experience and provide an opportunity to participate in the free enterprise system. The SBA helps citizens to start, build and grow businesses through the support of counseling, contracting assistance and gaining access to capital. We thank Cassius Butts for sharing his personal and professional experience for others to learn about his career path as regional administrator for Region IV of the U.S. Small Business Administration.
Dr. Ronald Holmes is the author of two books, "Education Questions to be Answered" and "Current Issues and Answers in Education." He is the President of The Holmes Education Post, an education focused Internet newspaper. Holmes is the National Superintendent of Education for the National Save the Family Now Movement, Inc., a former teacher, school administrator, and district superintendent and can be reached at the following email address: [email protected]