Who is recipient of the ACE Reginald Wilson Diversity Leadership Award?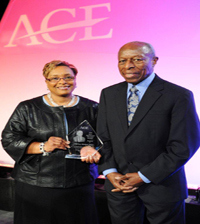 The Holmes Education Post recognizes schools, colleges and universities and their business partners that are demonstrating best practices in education. These practices include civic or service learning activities, special programs, events and recognition of stakeholders in various institutions across the nation.
The eighth and first female president of Prince George's Community College (PGCC), Dr. Charlene M. Dukes, was announced the 2014 Reginald Wilson Diversity Leadership Award at the plenary session of the American Council on Education's (ACE) 96th Annual Meeting. This distinguished award is presented to individuals who have made outstanding contributions to diversity in American higher education. It is named in honor of Dr. Reginald Wilson, senior scholar emeritus at ACE and former director of the Office of Minority Concerns.
Dukes has an enrollment of more than 44,000 students at PGCC in six locations. With 95 percent of the enrollment representing students of color, the college has been identified as a predominantly black institution and a White House Champion of Change. The college offers 200 credit and workforce development and continuing education programs. PGCC is also the location of the first middle college high school in Maryland, the Academy for Health Sciences, which is a partnership with the Prince George's County Public Schools. The first graduating class will receive high school diplomas and associate degrees simultaneously in May 2015.
Dukes holds membership in a wide range of professional organizations, including the boards of directors of the American Association of Community Colleges, the American Association of Colleges and Universities, the Community College Advisory Panel of the College Board, the Institute for Higher Education Policy, the President's Round Table, and the National Council on Black American Affairs. She is a member of the board of directors of the Prince George's County Chamber of Commerce, the Business Round Table, Doctors' Community Hospital, the Harlem Renaissance Foundation, College Summit and Hillside-Works Scholarship Connection.
From 2002 through 2006, she served on the Appointed Board of Education of Prince George's County and chaired the Student Support, Student Appeals and Personnel Committees. In May 2007, she was appointed by Governor Martin O'Malley to serve on the Maryland State Board of Education. From July 2009 to July 2012, she served as vice-president of the Board and assumed the role of president in July 2012.
Dukes is a lifetime member of Delta Sigma Theta Sorority, Inc., and the "Go On Girl" National Book Club. She holds a Bachelor of Science degree in Secondary Education with an English concentration from Indiana University of Pennsylvania and a master's and doctorate in Administrative and Policy Studies from the University of Pittsburgh.
According to ACE President Molly Corbett Broad, "It is a privilege to present the 2014 Reginald Wilson Diversity Leadership Award to Charlene Dukes, whose bold leadership at Prince George's Community College and elsewhere demonstrates an unwavering dedication to the cause of expanding higher education diversity and access. She is a pioneer who is intent on helping forge new opportunities for countless other higher education leaders and students."
We congratulate president Dr. Charlene M. Dukes for her outstanding contributions to diversity in American higher education.
 Dr. Ronald Holmes is the author of five books, "Education Questions to be Answered,"  "Current Issues and Answers in Education,"  "How to Eradicate Hazing," "Professional Career Paths" and "Your Answers to Education Questions." He is publisher of "The Holmes Education Post," an education focused Internet newspaper.  Holmes is a former teacher, school administrator and district superintendent. He can be reached at [email protected].
Photo by Tim Trumble for the American Council on Education.