Who is the 2013 Scripps National Spelling Bee Winner?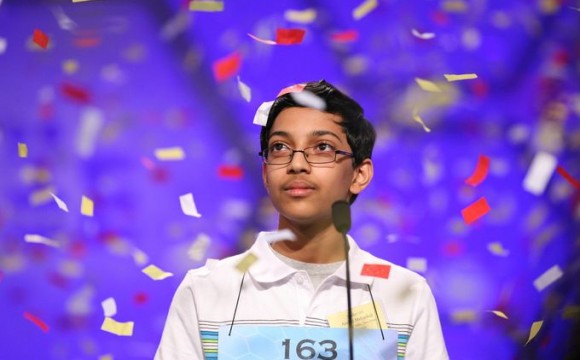 At the 2013 Scripps National Spelling Bee competition, 281 spellers from the 50 U.S. states and territories participated in the event. The spellers ranged in age from eight to 14. While the Scripps' National Spelling Bee's purpose is to help students improve their spelling, increase their vocabularies, learn concepts and develop correct English usage for life, the critical questions to be asked are: Who is the 2013 Scripps National Spelling Bee Winner? What was the final word spelled correctly to win the competition? What are the prizes for winning the competition? What are some tips teachers can use to prepare students for the spelling bee?
The Scripps National Spelling Bee is broadcast on ESPN and is steadily increasing viewership. Each fall, tens of thousands of schools participate in the program by conducting spelling bee programs at the classroom, grade and school level. They send their spelling bee champions to the next round of competition as determined by their local spelling bee sponsors according to The E.W. Scripps Company.
This year's Scripps National Spelling Bee winner is Arvind Mahankali, a 13 year-old eighth grader from Nathaniel Hawthorne Middle School located in Bayside Hills, N.Y. Mahankali enjoys math and science and desires to become a physicist. Mahankali participated in the spelling bee competition for four consecutive times before winning it. On his first three attempts, he finished ninth in 2010 and third in 2011 and 2012. To win the 86th Scripps National Spelling Bee, Mahankali spelled the word "Knaidel" correctly which is a Yiddish term of German origin meaning "dumpling." For his efforts, Mahankali won a $30,000 cash prize, the Scripps National Spelling Bee trophy, a $2,500 U.S. savings bond, a complete reference library from Merriam-Webster and a set of of Encyclopædia Britannica reference works valued at $2,000.
For teachers who desire to prepare their students for the 2014 Scripps National Spelling Bee and beyond, The E.W. Scripps Company provides 10 tips. They include (1) "hosting an all-school showing of the movie, Akeelah and the Bee; (2) offering after-school study groups, spelling clubs and hosting fun mini-bees; (3) finding a popular community personality to host your spelling bee—a local athlete, columnist or politician; (4) encouraging everyone to dress in black and yellow on the day of your spelling bee; (5) creating and promoting a supporting awards such as "Most Improved Speller;" (6) hosting a Teacher Bee for the entire school to enjoy; (7) raising funds for your school and spelling bee with Great American SpellCheck which is simple, safe and educational; (8) promoting your spelling bee at other events such as high school basketball games or open houses; (9) inviting students to design their own spelling bee logo and putting the winning entry on T-shirts to sell at your spelling bee and (10) asking a face painter to paint bees on students' and teachers' faces on the day of your spelling bee."
We sincerely congratulate all the spellers throughout the world and, particularly, Arvind Mahankali for remaining focused and winning the 2013 Scripps National Spelling Bee competition. We also commend The E.W. Scripps Company and all of its partners and affiliations for making the event a renowned success for our schools nationwide.
Dr. Ronald Holmes is the author of three books, "Education Questions to be Answered," "Current Issues and Answers in Education" and "How to Eradicate Hazing." He is publisher of "The Holmes Education Post," an education focused Internet newspaper. Holmes is the national superintendent of education for the National Save the Family Now Movement, Inc., a former teacher, school administrator and district superintendent. He can be reached at [email protected]