Who is the 2014 National Teacher of the Year?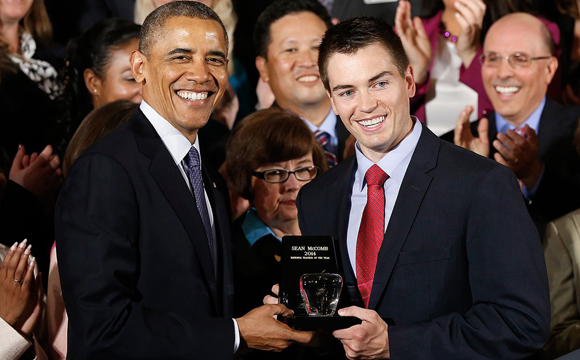 The National Teacher of the Year (NTOY) program started in 1952 and is the oldest and most prestigious national honors program. It focuses public attention on excellence in teaching and is operated by the Council of Chief State School Officers. Through a national selection committee representing 15 national education organizations, each state teacher of the year submits a written application and letters of endorsement and completes eight essays on topics ranging from personal teaching philosophy to the issues confronting education to be considered for the title.
The national selection committee meets in early December to choose four finalists from the nominations received. In February, the finalists participate in interviews in Washington, D.C. For this year, the finalists are Ryan Devlin(Pennsylvania); Sean McComb (Maryland) Melissa Ann Porfirio (Virginia) and Dorina M. Sackman (Florida). Now that the selection has been made, the critical questions to be asked are: Who is the 2014 National Teacher of the Year? What is Sean McComb's reason for becoming a teacher? What does President Barrack Obama say about the value of a teacher?
On May 1, President Barrack Obama honored Sean McComb as the 2014 National Teacher of the Year at the White House. McComb teaches at Patapsco High School and the Center for the Arts in Baltimore. He participates in coaching and training as the school's staff development teacher, curriculum writer for the school system and an instructor at Towson University. McComb also works with students in a college-readiness program called AVID (Advancement Via Individual Determination) where the success rate for the past two years of students being admitted to college and earning scholarships have been outstanding.
As a testament to the importance of teachers, McComb said, "I became a teacher because I had incredible teachers who were able to shine a light of hope and possibility into a dark time in my life. Teaching is my calling to do that for others, and an opportunity to spend my career living purposefully — helping children fulfill the promise of their lives." As part of his professional growth and development,  McComb holds a B.A. in English Literature and a ME.d. in English Education from the University of Pittsburgh and a certificate in School Improvement Leadership from Goucher College.
While everyone is not made for teaching, Obama said, "There's an image from Sean's application essay that captures what he and all the teachers here are trying to accomplish. Every child has an invisible chalkboard attached to their hearts and minds that they carry with them through their lives. Some people they meet write messages of love and support. Some leave messages of negativity and doubt. It's a teacher's job to erase the negative messages and fill those boards with caring words, and inspire confidence and strengthen values. Now, some of today's students might not even know what a chalkboard is anymore — but they do know that what a teacher gives them stays with them for a lifetime, because teachers matter."
We congratulate Sean McComb for being named National Teacher of the Year. Over the next year, McComb will travel nationally and internationally as an advocate and spokesperson for the teaching profession. We wish him the very best.
 Dr. Ronald Holmes is the author of five books, "Education Questions to be Answered,"  "Current Issues and Answers in Education,"  "How to Eradicate Hazing," "Professional Career Paths" and "Your Answers to Education Questions." He is publisher of "The Holmes Education Post," an education focused Internet newspaper.  Holmes is a former teacher, school administrator and district superintendent. He can be reached at [email protected]